Books, Art, Clothes, Movies, Music & Much More — Your Purchase Supports Our Mission
The Oldest & Very Best LGBTQ & Feminist Bookstore in the Country
New Releases
Dykette
Sasha and Jesse are professionally creative, erotically adventurous, and passionately dysfunctional twentysomethings making a life together in Brooklyn. When a pair of older, richer lesbians–prominent news host Jules Todd and her psychotherapist partner, Miranda–invites Sasha and Jesse to their country home for the holidays, they're quick to accept. Even if the trip includes a third couple–Jesse's best friend, Lou, and their cool-girl flame, Darcy–whose It-queer clout Sasha ridicules yet desperately wants.
Sale! Sale! Sale!
Last Tuesday of the Month Sale
This month we're celebrating Christine Jorgenson's 97th birthday! The legendary actress, singer, and recording artist was the first widely known transgender woman in the United States. Come read up on trans history with 25% off everything in store on Tuesday, May 30th!
Events
Philadelphia Queer Book Club: ZAMI
The beautiful Philadelphia Queer Book Club is meeting at our store!  At 6:00 we'll be discussing Audre Lorde's ZAMI: A New Spelling of My Name: A Biomythography.
Order through us and get 10% off your purchase! Click here to order online with the code ZAMI10 through June 1st, or just mention that you're part of the book club when you order in store.
Follow Philly Queer Book Club on on insta.
Best Seller
Zami: A New Spelling of My Name: A Biomythography
ZAMI is a fast-moving chronicle. From the author's vivid childhood memories in Harlem to her coming of age in the late 1950s, the nature of Audre Lorde's work is cyclical. It especially relates the linkage of women who have shaped her . . . Lorde brings into play her craft of lush description and characterization. It keeps unfolding page after page.
Book of the Week
Ma and Me: A Memoir
Winner of the 2023 Pacific Northwest Book Award.
Finalist for the 2023 Lesbian Memoir/Biography Lambda Literary Award
"A nuanced mediation on love, identity, and belonging. This story of survival radiates with resilience and hope."
—Publishers Weekly (starred review)
"This openhearted memoir . . . opens the door to include queer descendants of war survivors into the growing American library of love." –Sarah Schulman, author of Let the Record Show
When Putsata Reang was eleven months old, her family fled war-torn Cambodia, spending twenty-three days on an overcrowded navy vessel before finding sanctuary at an American naval base in the Philippines. Holding what appeared to be a lifeless baby in her arms, Ma resisted the captain's orders to throw her bundle overboard. Instead, on landing, Ma rushed her baby into the arms of American military nurses and doctors, who saved the child's life. "I had hope, just a little, you were still alive," Ma would tell Put in an oft-repeated story that became family legend.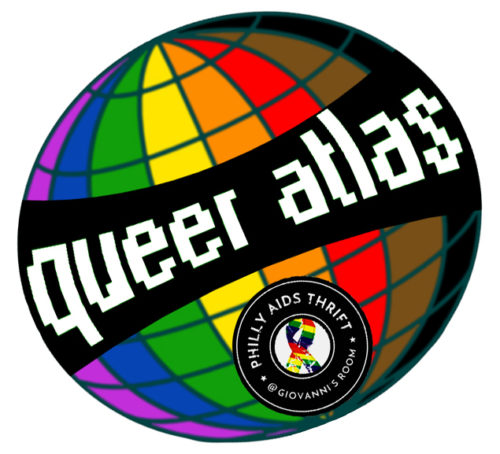 Introducing Queer Atlas
Welcome to Queer Atlas, a podcast broadcasting out of Philly AIDS Thrift @ Giovanni's Room. Queer Atlas has been created to highlight queer & trans art, activism, and spaces here in the city of Philadelphia. Each episode features an interview from a special guest, conversations about new and old LGBTQ media we are enjoying, as well as a peek at life in our store.
Listen To The Fourth Episode