Books, Art, Clothes, Movies, Music & Much More — Your Purchase Supports Our Mission
The Oldest & Very Best LGBTQ & Feminist Bookstore in the Country
New Releases
The Free People's Village
From environmental journalist and founder of the #TransRightsReadathon Sim Kern, comes the eat-the-rich climate fiction you won't want to put down: In an alternate 2020 timeline, Al Gore won the 2000 election and declared a War on Climate Change rather than a War on Terror. For twenty years, Democrats have controlled all three branches of government, enacting carbon-cutting schemes that never made it to a vote in our world. Green infrastructure projects have transformed U.S. cities into lush paradises (for the wealthy, white neighborhoods, at least), and the Bureau of Carbon Regulation levies carbon taxes on every financial transaction.
Sale! Sale! Sale!
Last Tuesday of the Month Sale
October is LGBT History Month, and will be ending on a Tuesday- which means Halloween won't be the only thing to celebrate! Everything will be 25% off, come in and enjoy some spooky savings!
Events
Alicia Roth Weigel's Inverse Cowgirl
Come hear Alica Roth Weigel and Dr. Karen Tang Discuss Inverse Cowgirl
Alicia Roth Weigel is a writer and activist working to improve the political and
social landscape for marginalized populations in the South and worldwide
through her firm, Intrepida Strategy.
In INVERSE COWGIRL: A Memoir, Alicia boldly
speaks out about working as a change agent in a state that actively attempts to pass legislation that
would erase her existence, explores how we can reclaim bodily autonomy, and encourages us to amplify
our voices to be heard. Disarming, funny, charming, and powerful, this is a vital account of personal
accomplishment that will open eyes and change minds.
Best Seller
Safe and Sound: A Renter-Friendly Guide to Home Repair
Meet Mercury Stardust! 
Book signing event in store on October 6th, 10AM
For too many people, the simple act of contacting a plumber or repair person can feel like a game of chance. As a transwoman and a professional maintenance technician, Mercury Stardust has discovered (the hard way) that we live in a world with much to fear. If you've ever felt panicked about opening your home to strangers in order to fix a maintenance issue, this book is for you.
Book of the Week
Fledgling
October Book Club Pick!
Meeting 10/12/2023 at 6:00 PM
Order with us and receive 10% off!
Octavia E. Butler's final novel is the story of an apparently young, amnesiac girl whose alarmingly unhuman needs and abilities lead her to a startling conclusion: She is in fact a genetically modified, 53-year-old vampire. Forced to discover what she can about her stolen former life, she must at the same time learn who wanted—and still wants—to destroy her and those she cares for, and how she can save herself.
New Local Releases
This Pact Is Not Ours
Available October 3rd – Pre-order Now!
The summer before college Luca Piccone returns to Copper Cove, the idyllic campsite he and his closest friends have visited every year since they were kids. To Luca, Copper Cove is like the setting of the fantasy movies he loves, a sanctuary, protected from the dangers of the outside world, where nothing goes wrong and everything stays the same.
But this year things are changing.
Desperate to make this summer the best one yet, Luca tries to ignore the freshly torn rifts within his tight friend group, the pangs of unrequited love, the anxiety attacks he thought he'd left back at school, and the shadows at the edge of the forest threatening to break free. Until he learns the terrible truth.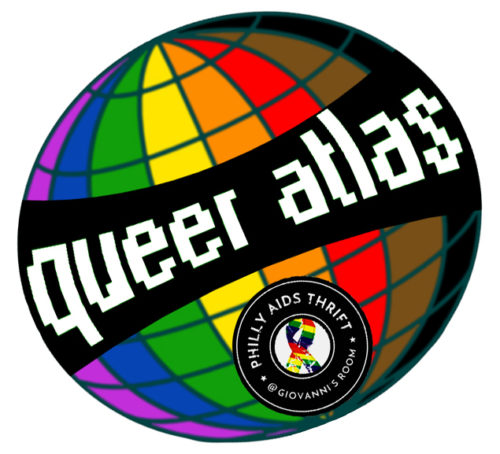 Introducing Queer Atlas
Welcome to Queer Atlas, a podcast broadcasting out of Philly AIDS Thrift @ Giovanni's Room. Queer Atlas has been created to highlight queer & trans art, activism, and spaces here in the city of Philadelphia. Each episode features an interview from a special guest, conversations about new and old LGBTQ media we are enjoying, as well as a peek at life in our store.
Listen To The Fourth Episode