Books, Art, Clothes, Movies, Music & Much More — Your Purchase Supports Our Mission
The Oldest & Very Best LGBTQ & Feminist Bookstore in the Country
New Releases
Making Love with the Land: Essays
The novel Jonny Appleseed established Joshua Whitehead as one of the most exciting and important new literary voices on Turtle Island, winning both a Lambda Literary Award and Canada Reads 2021. In Making Love with the Land, his first nonfiction book, Whitehead explores the relationships between body, language, and land through creative essay, memoir, and confession.
Sale! Sale! Sale!
Last Tuesday of the Month Sale
Join us on Tuesday, November 29th for our Last Tuesday of the Month sale! We're celebrating the 107th birthday of Billy Strayhorn, the openly gay jazz composer, pianist, and collaborator with Duke Ellington. Stop by for 25% off everything in store!
Events
Cyber Monday Sale!
Forget Black Friday – Cyber Monday is where the real deals are!
At checkout, use coupon code "#internets" for 25% off + free shipping on all queerbooks.com orders.
Best Seller
Tell Me How to Be
"Tell Me How to Be is daring, hilarious, poignant, and impossible to put down. Neel Patel is a fabulous storyteller!" –Deesha Philyaw, author of The Secret Lives of Church Ladies

From rising star Neel Patel ("refreshing…defiant…consistently surprising" —New York Times), a darkly funny and heartbreaking debut novel about an Indian-American family confronting the secrets between them
Renu Amin always seemed perfect: doting husband, beautiful house, healthy sons. But as the one-year anniversary of her husband's death approaches, Renu is binge-watching soap operas and simmering with old resentments. She can't stop wondering if, thirty-five years ago, she chose the wrong life.
Book of the Week
Still Water: Poems
African American, Cabo Verdean/Wampanoag/Ioway all converge in Jewelle Gomez's exquisite collection of poetry that explores the legacies of family heritage, history, and identity. Gomez contemplates her sexuality, multi-ethnic and class identities, and what it means to experience love, loss, grief, friendship, and solidarity with other women during times of political upheaval. Gomez's poems are a gift: at times sumptuous and impassioned, and always striking in their clarity.
New Local Releases
Unlawful DISorder
Bowie doesn't intend to hurt his mother-he just wants to collect his social security check from her. But when she throws around words like hallucinating and tells him he's "hearing things," his fear is triggered, and he takes action. This event, coupled with a history of reported psychotic episodes, a gambling addiction, and his sexual preference for other men, sets him on a collision course with mental health professionals, the police, and the prison system.
Along the way, Bowie explores a relationship with another Black man who encourages him to question a system that refuses to listen to him when he claims his medical regimen is causing adverse effects and who encourages him to find his own voice, free of his mother and the stigma of mental illness. But he faces another barrier: The shimmer that follows him and whispers vile things. Can Bowie find his voice despite these hurdles?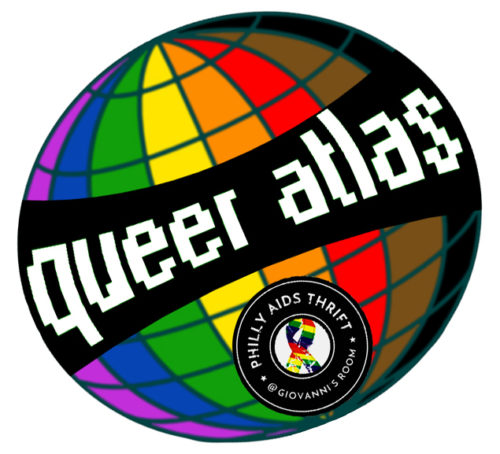 Introducing Queer Atlas
Welcome to Queer Atlas, a podcast broadcasting out of Philly AIDS Thrift @ Giovanni's Room. Queer Atlas has been created to highlight queer & trans art, activism, and spaces here in the city of Philadelphia. Each episode features an interview from a special guest, conversations about new and old LGBTQ media we are enjoying, as well as a peek at life in our store.
Listen To The Fourth Episode