Books, Art, Clothes, Movies, Music & Much More — Your Purchase Supports Our Mission
The Oldest & Very Best LGBTQ & Feminist Bookstore in the Country
New Releases
Mexican Witch Lifestyle: Brujeria Spells, Tarot, and Crystal Magic
Discover the vibrant culture of brujeria and embrace your own inner witch with this essential guide to spellcasting, spirit worship, tarot, crystals, and all the other elements of this increasingly popular lifestyle.
A modern Mexican bruja is a powerful person, one who reads the tarot and performs spellwork and rituals of devotion to their spirit guides and deities. Brujeria, which translates as witchcraft in Spanish, is a unique form of spirituality that blends core elements of Afro-Indigenous beliefs.
Sale! Sale! Sale!
Last Tuesday of the Month Sale
Join us on Tuesday, November 29th for our Last Tuesday of the Month sale! We're celebrating the 107th birthday of Billy Strayhorn, the openly gay jazz composer, pianist, and collaborator with Duke Ellington. Stop by for 25% off everything in store!
Events
Stay Tuned
Sorry, there are no upcoming events.
Best Seller
Butts: A Backstory
"Winning, cheeky, and illuminating….What appears initially as a folly with a look-at-this cover and title becomes, thanks to Radke's intelligence and curiosity, something much meatier, entertaining, and wise." –The Washington Post
"Lively and thorough, Butts is the best kind of nonfiction." —Esquire, Best Books of 2022 So Far
A "carefully researched and reported work of cultural history" (The New York Times) that explores how one body part has come to mean so much–now one of the most anticipated books of 2022.
Whether we love them or hate them, think they're sexy, think they're strange, consider them too big, too small, or anywhere in between, humans have a complicated relationship with butts.
Book of the Week
Dancing on the Volcano
Dancing on the Volcano is a dramatic and original story of gay relationships for fans of Howard Cruse's Stuck Rubber Baby or Alison Bechdel's Dykes To Watch Out For.
When cartoonist Flo travels the globe for the first time without his boyfriend, Bas, he is too preoccupied with feeling homesick to really see any of the beauty around him.
New Local Releases
Before All the World
An NPR Best Book of the Year

A mesmerizing, inventive story of three souls in 1930s Philadelphia seizing new life while haunted by the old.
I do not believe that all the world is darkness.
In the swirl of Philadelphia at the end of Prohibition, Leyb meets Charles. They are at a former speakeasy called Cricket's, a bar that welcomes, as Charles says in his secondhand Yiddish, feygeles. Leyb is startled; fourteen years in amerike has taught him that his native tongue is not known beyond his people.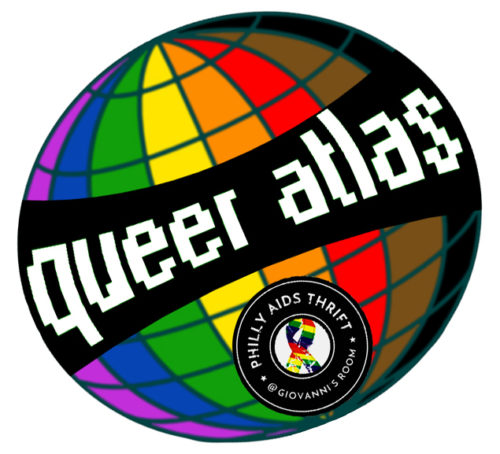 Introducing Queer Atlas
Welcome to Queer Atlas, a podcast broadcasting out of Philly AIDS Thrift @ Giovanni's Room. Queer Atlas has been created to highlight queer & trans art, activism, and spaces here in the city of Philadelphia. Each episode features an interview from a special guest, conversations about new and old LGBTQ media we are enjoying, as well as a peek at life in our store.
Listen To The Fourth Episode