Books, Art, Clothes, Movies, Music & Much More — Your Purchase Supports Our Mission
The Oldest & Very Best LGBTQ & Feminist Bookstore in the Country
New Releases
Foghorn Echoes (Main)
Hussam and Wassim are teenage boys living in Syria during America's 2003 invasion of Iraq. When a surprise discovery results in tragedy, their lives, and those of their families, are shattered. Wassim promises Hussam his protection, but ten years into the future, he has failed to keep his promise. Wassim is on the streets, seeking shelter from both the city and the civil war storming his country. Meanwhile Hussam, now on the other side of the world, remains haunted by his own ghosts, doing his utmost to drown them out with every vice imaginable.
Split between war-torn Damascus and Vancouver,
The Foghorn Echoes
is a tragic love story about coping with shared traumatic experience and devastating separation. As Hussam and Wassim come to terms with the past, they begin to realise the secret that haunts them is not the only secret that formed them.
Sale! Sale! Sale!
Last Tuesday of the Month Sale
Join us on Tuesday, January 31st for our Last Tuesday of the Month sale! We are honoring what would have been the 81st birthday of gay activist, filmmaker, and artist Derek Jarman. Stop by for 25% off everything in store
Events
Tarot Night with Coral Fox!
Looking for some insight into what to do in the new year? Are you curious about current (or possibly future) relationships? Come to PAT @ Giovanni Room's (second floor) for Tarot Readings with Coral Fox. Both Walk-Ins and Scheduled Appointments are welcome. 
Can't make it in person? Virtual Readings are also available. Go to Instagram @coral_fox_tarot, email coralfoxtarot@gmail.com, or click here to schedule.  Readings are $20 each and run between 20-30 minutes per session. 
Best Seller
Butts: A Backstory
"Winning, cheeky, and illuminating….What appears initially as a folly with a look-at-this cover and title becomes, thanks to Radke's intelligence and curiosity, something much meatier, entertaining, and wise." –The Washington Post
"Lively and thorough, Butts is the best kind of nonfiction." —Esquire, Best Books of 2022 So Far
A "carefully researched and reported work of cultural history" (The New York Times) that explores how one body part has come to mean so much–now one of the most anticipated books of 2022.
Whether we love them or hate them, think they're sexy, think they're strange, consider them too big, too small, or anywhere in between, humans have a complicated relationship with butts.
Book of the Week
Orlando: A Biography
As his tale begins, Orlando is a passionate sixteen-year-old nobleman whose days are spent in rowdy revelry, filled with the colorful delights of Queen Elizabeth I's court. By the close, three centuries have passed, and he will have transformed into a thirty-six-year-old woman in the year 1928. Orlando's journey is also an internal one—he is an impulsive poet who learns patience in matter of the heart, and a woman who knows what it is to be a man.
New Local Releases
Before All the World
An NPR Best Book of the Year

A mesmerizing, inventive story of three souls in 1930s Philadelphia seizing new life while haunted by the old.
I do not believe that all the world is darkness.
In the swirl of Philadelphia at the end of Prohibition, Leyb meets Charles. They are at a former speakeasy called Cricket's, a bar that welcomes, as Charles says in his secondhand Yiddish, feygeles. Leyb is startled; fourteen years in amerike has taught him that his native tongue is not known beyond his people.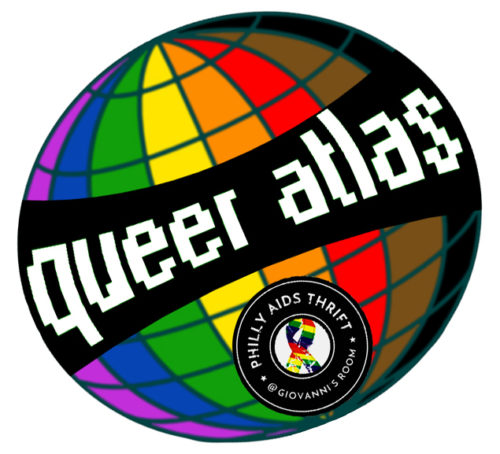 Introducing Queer Atlas
Welcome to Queer Atlas, a podcast broadcasting out of Philly AIDS Thrift @ Giovanni's Room. Queer Atlas has been created to highlight queer & trans art, activism, and spaces here in the city of Philadelphia. Each episode features an interview from a special guest, conversations about new and old LGBTQ media we are enjoying, as well as a peek at life in our store.
Listen To The Fourth Episode